JMO Editor in Chief – Expression of Interest at March 2023
JMO Expression of Interest at March 2023
EOI opens March 2023 and remains open until the position is filled. Enquiries and applications can be made to ANZAM's Academy office via email: anzam@anzam.org
---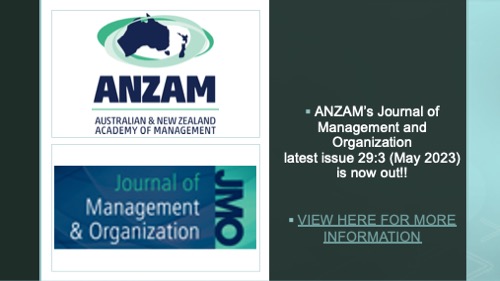 FOR MORE INFORMATION: CLICK HERE
---
Associate Editor of the Year 2022 – Congratulations to – Haiyang Kang
JMO_2022_Associate Editor Certificate
---
JMO SUBMISSIONS ALERT
ANZAM has become aware of a company, purporting to be acting on our behalf, offering to assist those wishing to publish in the Journal of Management & Organization (JMO) in exchange for a sizeable fee.
We assure our members and anyone interested in publishing in our journal that there is no charge to do so, nor is any intermediary used. The only way to submit to the journal is via JMO's page on the Cambridge University Press website.
Members can rest assured Cambridge University Press is aware of this situation, and investigations are underway.
---

The Journal of Management & Organization (JMO) (ISSN 1833-3672)is an international peer-review journal committed to publishing high quality and influential research to provide in-depth understanding of Management and Organizational issues.
JMO invites novel contributions that are empirical in nature or conceptual papers that extend our understanding of existing theory.
JMO's Citescore for 2021 = 5.1, with a projection for 2022 = 6.5 
ANZAM Membership includes free online access to JMO
The Journal of Management & Organization (JMO), which publishes on areas that address the interests of management academics worldwide, has been accepted to appear in the Thomson Scientific Social Sciences Citation Index from Volume 13(1) – 2007.
In one forum, the Journal of Management & Organization covers:
Qualitative and quantitative empirical research articles
Theoretical and conceptual articles
Literature reviews – including those from theses
Articles on management education and learning
Practitioner perspectives and case studies
Methodological advances – including those from theses
Article formats include, but are not restricted to, traditional academic research articles, case studies, literature reviews, approaches to teaching, learning and management development, and interviews with prominent executives and scholars. Original articles which inform management research and practice from outside the discipline – such as from psychology, education, political science, sociology, statistics and research design – will also be considered.
JMOis published by Cambridge University Press since 2013.  From 2006-2012, JMO was published by eContent Management.
Information for ANZAM Members
ANZAM membership includes full online access to JMO. If you're a current ANZAM member, just sign in to your ANZAM membership account – by clicking on Sign In in the top right-hand corner of the page. Once in click on the JMO Member Login.
Putting Faces to the Names…