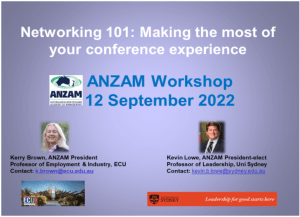 Networking can be a powerful way to make connections, build relationships and exchange information and resources. However, networking is an activity and a skill that may challenge you or take you out of your comfort zone. In this workshop, Kerry Brown and Kevin Lowe support you on your networking journey and offer helpful advice on making the most of your conference experience. With the upcoming ANZAM Conference in December and in moving back to face-to-face conference participation, it is timely to consider making the most of your conference experience. As an outcome of this workshop, you will know what is networking and have a better idea of the possibilities of networking to build your academic career, have tips to start your networking, and we hope, be able to attend conferences with a renewed sense of purpose and confidence.  
Presenters:
Professor Kerry Brown, President ANZAM and Professor of Employment and Industry at Edith Cowan University has extensive experience in negotiation, networking and collaboration.  Her workshops co-led with Associate Professor Dorothy Wardale, Curtin University on Networking for Introverts are a popular topic for emerging academics.
Kevin B. Lowe is Professor in Leadership in the Business School at the University of Sydney. A recognized leader in the field of leadership, Kevin is on ten editorial boards including The Leadership Quarterly (Associate Editor), Journal of Management, Journal of Organizational Behavior, Journal of International Business Studies, Journal of Leadership and Organizational Studies, Leadership, Journal of World Business, and Group and Organization Management.